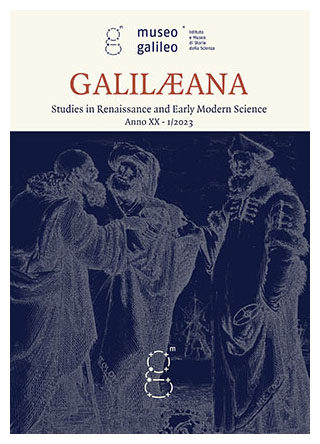 Galilæana is an international scientific journal that publishes blind peer-reviewed research articles on the history of Renaissance and early modern science. The journal focuses on topics relating to life, scientific work, and achievements legacy of Galileo. The journal also welcomes submissions that, while not directly pertaining to Galilean studies, will be of interest to historians engaged in research on science and culture in early modern Europe.
Galilæana also hosts other forms of contribution, from historical and bibliographical notes to invited papers and essay reviews.
From 2023 Galilæana will be no longer printed by Olschki in paper version (2004-2022) and will become an online open-access journal.
Galilæana accepts papers written in English and Italian. Submitted papers should include an abstract (150 words) in English.
Galilæana publishes two issues a year. [Galilæana, ISSN 1971-6052].
Indexing
The journal is indexed in Scopus, the Arts & Humanities Citation Index, and ERIH plus.
ANVUR (Agenzia Nazionale di Valutazione del Sistema Universitario e della Ricerca) classification: class A, area 11, sectors C1, C2, C3, C4, C5.